We serve a delicious, full, hot breakfast in the morning anytime you're ready between 8:00 and 9:30. Our menu will include an entrée, fresh fruit and muffins baked that morning.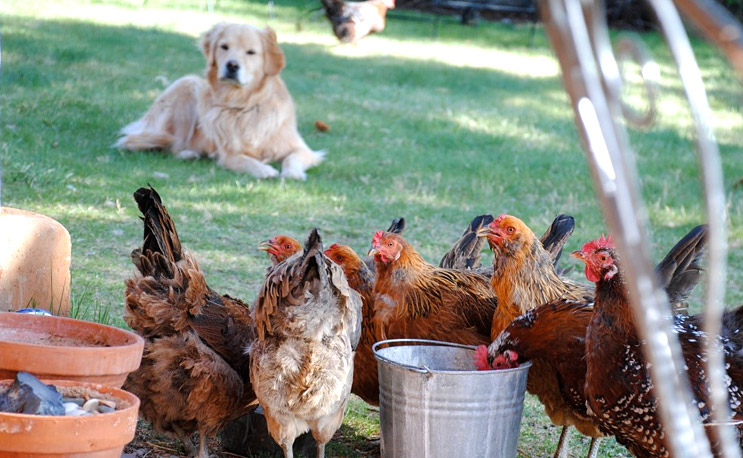 For earlier risers, we have fresh hot coffee or tea, juice, yogurt and cereal ready for you at 7:00.  Our morning breakfast time is a good time to get ideas and information for planning your day, watching the birds outside our windows and meeting other guests at the inn.  On chilly mornings you can sit by a crackling fire in the kiva fireplace and in warm months, you may want to sit outdoors on the patio and enjoy the freshness of the Taos morning air.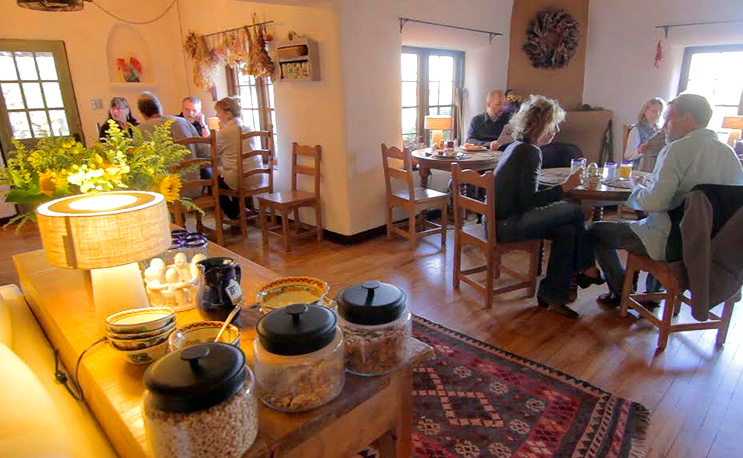 Recipes (As featured in New Mexico Magazine, February 2002)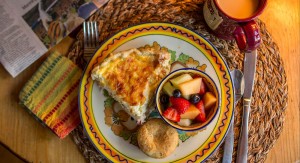 Grandma's Granola
10 c. organic old–fashioned oats
¾ c. canola oil
¾ c. maple syrup
2 fistfuls of brown sugar
4 tsps. maple flavoring
2 c. sliced almonds
Spread on 2 cookie sheets and bake at 350 degrees for 45 minutes or until golden brown, turning the mix frequently. Excellent for taking along on the nearby hikingtrails or skiing.
Green Chile and Bacon Quiche
4 eggs
2 c. of half & half
3 c. grated cheddar cheese
8 slices crumbled bacon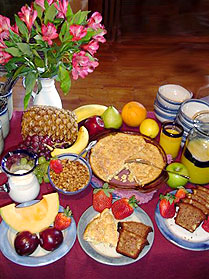 2 c. medium–hot, chopped green chiles
2 pie crusts.
Mix eggs, half & half, cheese, bacon and chile. Pour into prepared pie crusts. Bake 350 degrees for 1 hour, let cool a bit and cut servings like a pie. Makes 2 quiches for 12 to 16 servings.
Taos Green Chile–Egg Bake
2 c. frozen hash browns
1 c. croutons
1 ½ c. grated cheddar
1 c. bacon bits
10 organic eggs
1 ½ c. chopped hot green chile
2 c. milk
On the night before, spray a 9–inch by 13–inch baking pan. Layer the dry ingredients in order of hash browns, croutons, cheddar cheese and bacon. Separately beat the eggs with milk and add the green chile. Pour this mix evenly over the layers. Refrigerate.
In the morning, preheat oven to 350 degrees and bake for 1 hour. Let it cool a little before cutting and serving. Serves 8 to 12.